Safe Spaces Sandbach
The safe spaces initiative was started in early 2022, inspired by Dr Rosena Allin-Khan (MP for Tooting). The increasing concern of violence and harassment towards people of marginalised groups in public places highlighted the need for this scheme.
Safe spaces aim to provide a place for people to take a minute, help anyone feeling unsafe, make Sandbach a safer, more welcoming community, and to reduce male violence and support its victims.
Safe Spaces Map
Become a Safe Space
If you own a local business and would like to become a safe space, please email marycorcoran910@gmail.com and include your business name and address.
Thank you so much!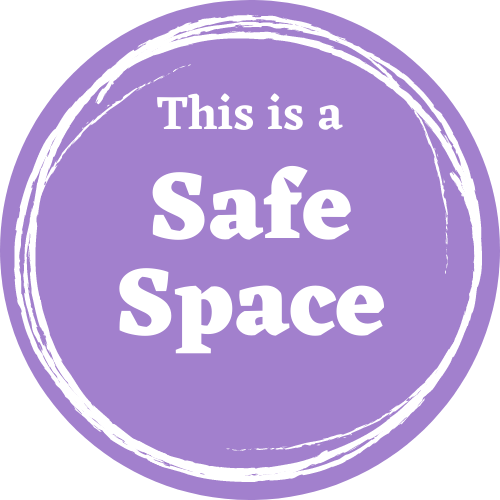 Helplines & Resources
Get Home Safe
If you would like someone to stay on the phone with you while you are on your way home, call:
StrutSafe - 0333 335 0026
Fri-Sun - 19:00-03:00
Mental Health
Samaritans - 116 123
For anyone who's struggling to cope, who needs someone to listen without judgment or pressure
Childline - 0800 1111
Help for anyone under 19 in the UK with any issue they are going through from trained counsellors.
No Panic - 0300 7729 8444
10am-10pm - costs 5p per minute
Support for those suffering from panic attacks, OCD, phobias, and other anxiety disorders
LGBTQ+
Galop - 0800 999 5428
Mon, Tue, Fri: 10am-5pm; Wed, Thu: 10am-8pm
Specialist helpline for LGBT+ people who have experienced hate crime, domestic abuse or sexual violence
LGBT Foundation - 0345 330 30 30
"here if you need us"
MindLine Trans+ - 0300 330 5468
Mon, Wed, Fri: 8pm-midnight
Support for people who identify as transgender, agender, gender fluid, non-binary...
Gender-Based Violence
Refuge - 0808 2000 247
Specialist support for people escaping domestic violence
Rape Crisis England & Wales - 0808 802 9999
Specialist support for women and girls who have experienced sexual violence
Male Survivors Alliance - 0808 800 5005
Help and information for male victims of sexual abuse, exploitation or rape
Hate Crime
Scope - 0808 800 3333
Disability equality charity providing practical information and emotional support
CST - 0800 032 3263
Support for victims of anti-semitic harassment and racism
Tell MAMA - 0800 456 1226
Support for victims of anti-Muslim hate
Victims Support - 0808 16 89 111
Support for victims of crime and traumatic incidents
---
Guidelines for Businesses
Safe spaces are designed to be more of a 'good Samaritan' initiative than a professional form of care. These guidelines are simply to clarify a few technicalities and help everyone to feel safer.
If you are worried for your personal safety or the safety of the person with you at any point, please call 999.
People may use safe spaces because:
They need to charge their phone

They're concerned they're being followed

They're having a bad day

They're caught in the rain without an umbrella
As a safe space, your job is to be a listening ear for a few minutes, help them to make a phone call and maybe make them a cup of tea.
Ideally there should be at least two members of staff working at a time, but if this is not possible, make sure you know of a contact at the next nearest safe space to you (see map above) or have a plan in case you need another person.

If someone is using your safe space, ideally a member of staff should remain with them and keeping the door open is recommended.

If someone is seeking your help and appears distressed, keep calm and find out their immediate needs.

Be flexible and take things slowly, offering support and reassurance.

Encourage them to call one of the helplines on the sheet (or see above) if you think that would help them.
Safe Spaces Sandbach 2022