Councillor Sam Corcoran has worked hard to represent Sandbach and since becoming Leader of Cheshire East Council in May 2019, the whole of Cheshire East
The Church Lane Play Area on Sandbach Heath has been improved and a formal opening should take place when covid allows.
In 2021 the Council approved a balanced 4-year Medium Term Financial Strategy - something never before achieved! This puts the Council on a sound financial footing. While there will be budgetary pressures the Council can now plan ahead with more clarity.
In 2020 the Council adopted an Environmental Strategy and a Carbon Action Plan which sets out in detail how the Council will become carbon neutral by 2025 - one of the most ambitious targets in the country.
Cheshire East Council now has up-to-date housing policies, so that speculative housing applications on greenfield sites can be resisted. Sadly the planning applications approved under the previous regime and still being built cannot be stopped - there is a lot of work to do to improve the infrastructure to deal with all the new houses.
Although the Conservatives controlled Cheshire East Council until May 2019 even when in oppostion he had some notable successes in influencing polices

JUNCTION 17 IMPROVEMENTS
A successful bid has been made for £2.3m government funding for J17 work. Traffic lights at the end of the south bound slip road (on the Congleton side of the junction) and a roundabout at the end of the north bound slip road (on the Sandbach side of the junction) could be built by 2014. Computer modeling showed this as the best and most cost effective solution.
There will be many people claiming credit. I can point to 2 critical interventions that I made, without which the improvements would not have happened. Firstly, when I first became a Cheshire East Councillor in 2011 I pressed Cheshire East Council to develop a solution to junction 17 problems. The Council carried out computer modeling of possible solutions and so when the government pinch point scheme was announced they were ready ready to put in a bid for funding.
Secondly in early 2014 the developers, W&S Sandbach Ltd, were promising co-operation and that land would be made available. I knew the past history of the founder director of W&S Sandbach Ltd and so advised the Highways Agency to prepare Compulsory Purchase Orders (CPOs) in case the developers did not co-operate. Without the CPOs the scheme could have been delayed beyond the March 2015 deadline and the funding would have been lost.
Thirdly, in September 2014 Cheshire East Council planning department recommended postponing the improvements for a year or two so that they could work with the developers of the Capricorn Business Park site to build an enhanced roundabout with an access onto the business park site. Look at the report at item 55 at http://moderngov.cheshireeast.gov.uk/ecminutes/ieListDocuments.aspx?CId=279&MId=5270. You will see that the recommendation from Cheshire East Council is to accept £1m instead of building any roundabout by junction 17. The Council would then have had the responsibility for constructing a roundabout at a later, undetermined date for an unknown cost. I strongly objected to these proposals and the item was withdrawn from the agenda in September. The pinch point improvements then went ahead.
In addition I would like to thank the government for providing the funding and Cheshire East highways and government Highways Agency staff for pushing the project through.
MORTIMER DRIVE PLAY AREA
Work has started on a £98,000 project to improve Mortimer Drive Play Area. The playground should be open by the end of October. I have worked on this project since its inception and have assisted with funding (see Allowances page for financial details).
LOAN SHARKS & CREDIT UNIONS
A motion I proposed at Cheshire East Council was passed. The motion called for the government to introduce caps on the total lending rates that can be charged for providing credit and called on the government to give local authorities the power to veto licences for high street credit agencies.
The introduction of the Universal Credit, which will be paid monthly in arrears, will call problems for many people and will add to the problem of extortionate loans. If you are having difficulty paying rent or mortgage then don't go to a payday loan shark. Go to or
COUNCIL TAX EXEMPTIONS FOR EMPTY PROPERTIES REMOVED
Cheshire East Council used to give a rates exemption for empty houses. At a time of housing shortage this gave property owners a perverse incentive to keep properties empty. At the end of 2011 I noticed that the government was consulting on changing the rules to allow councils more flexibility on exemptions. I raised this formally at the full council meeting in February 2012 as part of the budget setting process and have been working with councillors and officers since then to get the proposals approved.
I am delighted that the proposals to remove all rates exemptions on empty houses and to increase rates on properties empty for more than 2 years were unanimously approved at the full Cheshire East Council meeting in December 2012. There were some concessions agreed for properties empty whilst undergoing improvements.
The new scheme will encourage property owners to keep properties in use and will raise £3.2M for the council.
PORTAS PILOT
Sandbach Town Council has been awarded £10,000 to regenerate the High Street. Earlier this year I prepared a bid for Sandbach to be one of 12 Portas Pilot towns around the country. The bid envisaged using the indoor market stalls to offer easily accessible space for would be retailers to try out their offering in the indoor market. Those whose ideas succeed can then move onto a permanent market stall or a small retail unit within the indoor market hall. Further progression could be to a regular Thursday market stall or via meanwhile use to a High Street shop.
The application didn't win, but the Portas Pilot scheme was so successful, with over 400 applications, that the government decided to give £10,000 to each applicant if the local MP approved of the scheme. I am pleased that Fiona Bruce MP supported Sandbach's application and we have won the government funding of £10,000.
Video link: http://youtu.be/9iqkqCMzKBo
CHESHIRE EAST ACCOUNTS 2011/12
The annual accounts were published on 28 September 2012. The independent auditor commented that this years accounts were much better prepared than in previous years. Last year there were 5 major and 59 minor errors, but this year there were only 7 minor classification errors. Although the main credit for this goes to Cheshire East accounts staff I include it in my achievements, because I am a chartered accountant and have done a lot of work behind the scenes to improve the accounts production and to review early drafts of the accounts.
Sadly the independent auditor issued a qualified report on whether the council was getting value for money, but that is something separate from the accounts production. The auditor said "The most significant of my recommendations is the need for Members (Councillors) to provide clearer strategic direction and political leadership when agreeing priorities, taking difficult decisions and supporting officers to deliver agreed plans."
SANDBACH TOWN STRATEGY
Campaigning against the plans to build 700 houses on Sandbach Heath put forward in the Draft Sandbach Town Strategy. The number of responses was 93 in favour and 270 against. Even if you exclude the 150 letters sent in against the proposal and only take the responses on the official forms then it is still 93 in favour and 120 against.
Sadly the Stakeholder Panel led by Cllr Barry Moran, which designed the Sandbach Town Strategy, is determined to press ahead with the plans.
Sandbach Town Council rejected the plans and set a limit of 500 on new houses in Sandbach, but Cheshire East Council is STILL pushing ahead with plans for 700 new houses on Sandbach Heath.
DOG MESS
May 2012 Proposed that Sandbach Town Council purchases stencils to spray anti-dog fouling signs onto pavements. This is not a glamorous subject to mark the first anniversary of my election to Cheshire East Council. However, it is an issue that causes a lot of anger and I have campaigned to get people to clear up after their dogs for a number of years. There is an obstinate minority of dog owners who do not clear up after their dogs and they can give all dog owners a bad reputation. This will be a long campaign, but it is making progress in making it socially unacceptable not to clear up after your dog.
SANDBACH ALLOTMENTS
April 2012 After 20 years of trying, Sandbach finally has some allotments. They are at Yeowood Farm off Elton Road. Although I was on the allotments working group with Cllrs Ursula Griffiths and Richard Hoffmann, I think that a lot of the credit for this achievement should go to Cllr Keith Haines, who sadly was not re-elected in May 2011, Ursula who chaired the working group, the Sandbach Allotment Society and the farmers who are allowing use of their land.
SETBACKS
April 2012 Having announced a one year delay in any changes to school transport in July 2011, Cheshire East Cabinet decided on 30 April to scrap school transport to all faith schools from September 2012. This decision went against the consultation responses and the Council's own Scrutiny Committee advice as well as government guidance that changes should be phased in. The affected schools and parents now have less than one term to arrange alternative school transport.
At the start of the consultation Cheshire East Council said that scrapping faith school transport would save over £400,000 a year. I said it would only save £200,000 a year. The Council admitted in March 2012 that my figure was more accurate and said the savings would be about £230,000 a year. The Council has granted £150,000 funding to the affected schools to manage the change. I have had several conversations with concerned parents who do not know how their children will be getting to school next term. Some are even contemplating changing schools. Changing schools is disruptive for the children, as well as both the school the child leaves and the school the child moves to.
April 2012 The Council Planning Board approved (subject to access) a planning application for 39 houses off Hassall Road. I had campaigned vigorously against this application on the grounds that it was on a greenfield site on the outskirts of Sandbach, would be highly dependent on car use, was not a 'sustainable' site and had a dangerous access. I predicted that if the application were approved then it would lead to a rash of further speculative housing developments on greenfield sites around Sandbach.
SANDBACH YOUTH DISCO
March 2012 Worked with Cllr Richard Hoffmann to set up the youth disco for 11-18 year olds on alternate Friday nights in the Sandbach Town Hall from 7-10pm. Next discos are May 18th, June 1st and June 15th
HIGHWAYS ISSUES
February 2012 The timings of the traffic lights at the bottom of The Hill have been adjusted leading to a reduction in traffic queues. A small and cheap adjustment that will have an impact on many people travelling in Sandbach. I requested that this work be done as part of the highways minor improvements works programme. Further work is planned to reduce congestion even more.
January 2012 A new lollipop lady starts on Crewe Road outside Sandbach Community Primary School. This post has been vacant for 4 years. I am delighted that recruitment freeze has been waived to allow this post to be filled.
PLANNING ISSUES
January 2012 The planning appeal for 5 houses in the garden of a bungalow on Smithfield Lane was rejected. My argument that the development was out of keeping with the surrounding area was upheld. Apparently this is a landmark judgement!
My objection to the new staircase at the back of The Sandpiper pub was also upheld at appeal. This staircase would have radically changed the quiet nature of Booth Avenue.
I continue to work with the Save Our Sandbach group to oppose the housing development off Hassall Road.
December 2011 Spoke at Strategic Planning Board against a new housing development on a greenfield site off Hassall Road. The application was deferred, despite the council's own officers recommending approval.
ENVIRONMENTAL ISSUES
December 2011 Proposed an amendment at Cheshire East Council that the mileage rate for councillors should be reduced to the HMRC approved rate of 45p per mile. The amendment was defeated, despite unanimous support from Labour councillors. However, the mileage rate has been reduced from 65p to 52p per mile. We'll get there! I want to encourage more cycling and walking and discourage unnecessary car use. Reducing the financial incentives to driver is part of that campaign.
November 2011 Collected new bicycle under the government Cycle to Work Scheme http://www.cyclescheme.co.uk/
November 2011 Appointed as Press Officer for the Cheshire East Labour Group
October 2011 New grit bins installed on Newall Avenue and Townfields after a request from the residents The Avenues Tenants and Residents Association (TATRA)
September 2011 Toddler slide and see-saw installed in Sandbach Heath Park
September 2011 Met with Cheshire East officers to discuss draft 2010-11 accounts, which contained over 50 errors. Agreed and implemented new procedures to help prevent such problems in future.
August 2011 Campaigned successfully against a garden grab scheme to build five house on the site of an orchard on Smithfield Avenue
July 2011Campaigned successfully against plans to withdraw subsidised school transport for disabled children, children over 16 and faith schools.
June 2011 helped gather 200 signatures for a petition to keep existing toddler equipment in Sandbach Park. Sadly the equipment was removed so that people could drink tea and coffee in peace and quiet in that area. However, some of the equipment was not scrapped but moved to Sandbach Heath Park.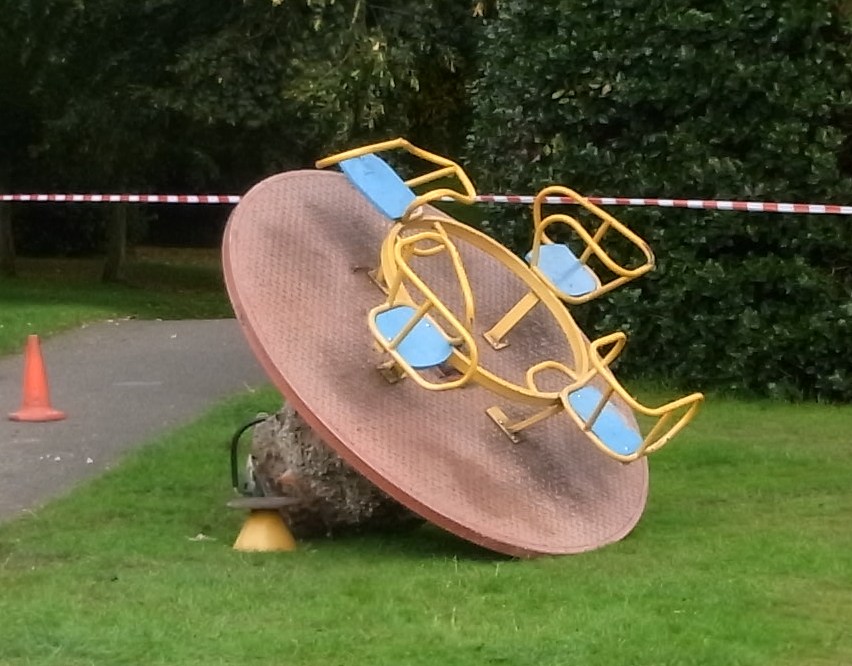 scrapped roundabout
May 2011 new playground in Sandbach Park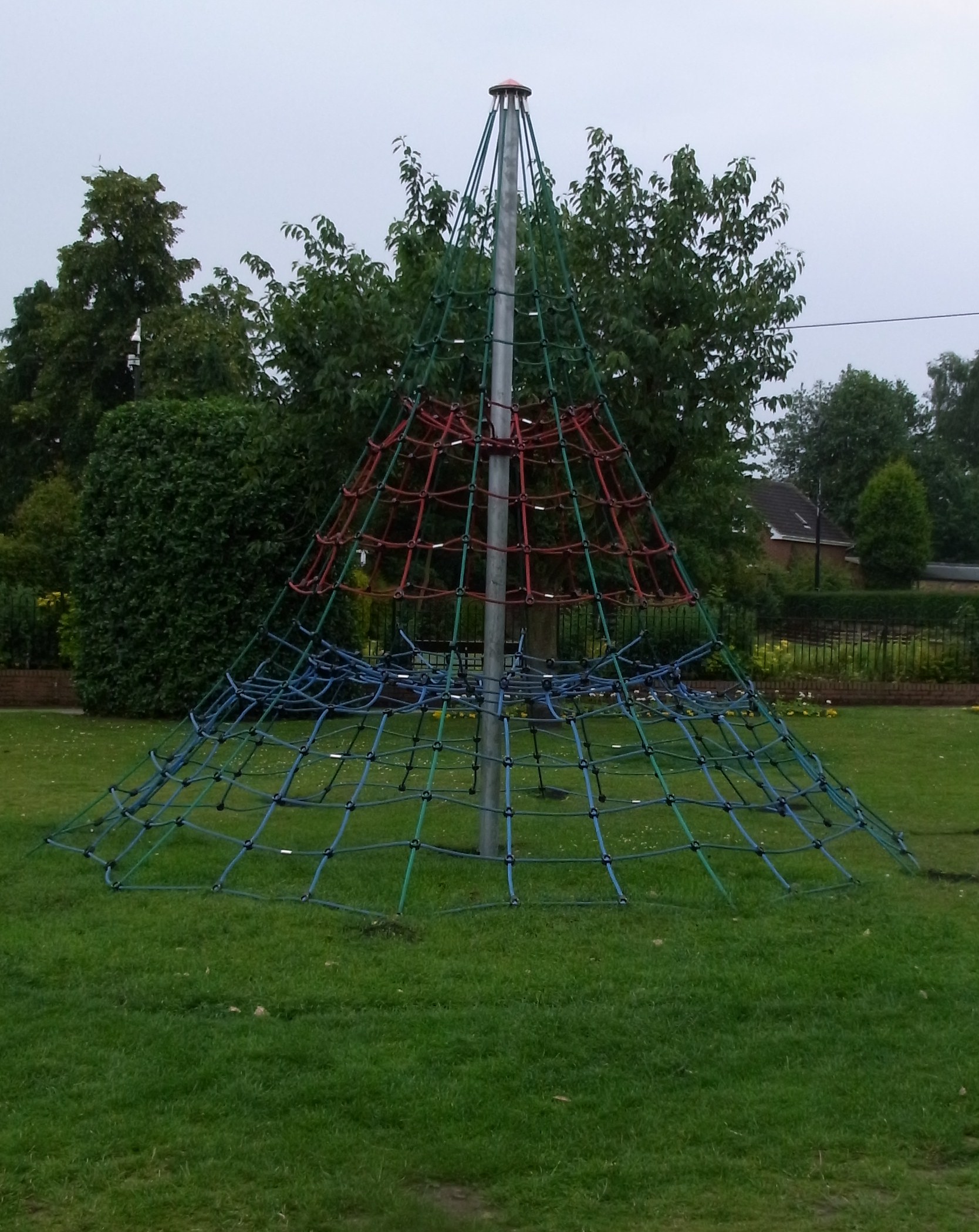 May 2011 - defeated 2 sitting councillors (one LibDem and one Conservative) to win election to Cheshire East Council in Sandbach Heath & East: